The premise that "all the good songs are written for women" has been visited by male cabaret artists before, but I can't imagine any putting a more clever spin on it than Doug Graham and Charles Herrera. With tongues often planted firmly in cheek (admittedly, hard to pull off when singing as skillfully as they did), these two appealing performers dazzled with a sparkling hour of feminine fun with a decidedly male spin.

Banish immediately all thoughts of that guy at the piano bar who just has to sing the definitive version of "I Dreamed a Dream" after a healthy dose of Dutch courage. Invoking Streisand, Summer, Fabares, Carr, Eder, Garland, Vaughan and more, these gents covered a broad range of styles. In the process, they showed that good music is pretty much genderless and they had a grand time of it.
Medleys and duets formed the heart of the evening, enhanced by spot-on harmonies of Graham's lilting tenor and Herrera's darker and richer lyric bari-tenor. They set the tone of the evening with a whimsical medley of "The Patty Duke Show Theme Song," "Sisters" and "Bosom Buddies." Later, they navigated through a crafty "rival medley" – think Linda Evans and Joan Collins, poolside – with Graham preening into a mirror ("Gorgeous") and Herrera proclaiming "Soy Hermosa" ("I Feel Pretty). They turned left at "Stepsisters' Lament" and then revved the motors for an impassioned "A Boy Like That"/"I Have a Love."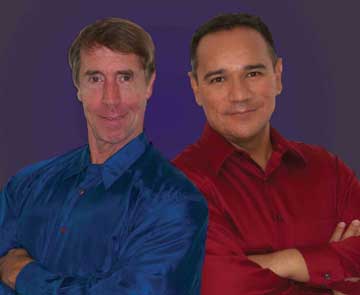 A duet of "Enough Is Enough" ("No More Tears") had us howling as the two did their best to nail the specific disco riffs of Streisand and Summer, and a final duet of "I Will Never Leave You" (Sideshow) was sincerely felt and rapturously sung.
Outstanding solos included Graham's tender "Till There Was You" and "Dance Ten/Looks Three," which paid tribute to his time touring with A Chorus Line and allowed him to showcase his amazing flexibility as a dancer (standing side split, no less). Herrera was pitch-perfect and found just the right degree of pathos on his medley of "It Must Be Him"/"One Less Bell to Answer." His lovely vibrato lent itself beautifully to "As Long As He Needs Me," and his wounded lion pacing the stage on "Cry Me a River" showed utter commitment to his intentions.
A few opening night jitters aside, this was one of the most entertaining cabaret shows this season and it showcased outstanding local talent. Briskly directed by Larry Lazzaro, wittily choreographed by Graham, and with rock-solid support from Music Director Paul Cracchiolo, this fun evening deserves wider viewing.